by Jyll
I am ready to never eat again and it's not even Christmas yet. This season has truly outdone itself in fried, gooey shit that I can't resist. So much for 6 months of carb-free sugar-free livin.
On Saturday, my dad picked me up at the airport with a traditional California meal: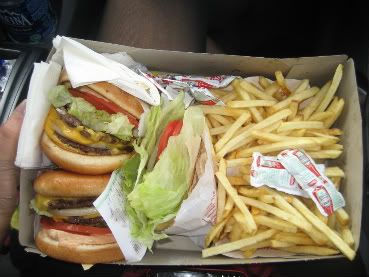 This was followed by Going Home And Doing Nothing With my Sisters. Except by 'Doing Nothing' I mean eat cheetohs and watch Rock of Love.
It's been fun though, being back home in the mountains with my family. Last night we had my favorite: fried deer liver, cooked in the style of my late grandfather*.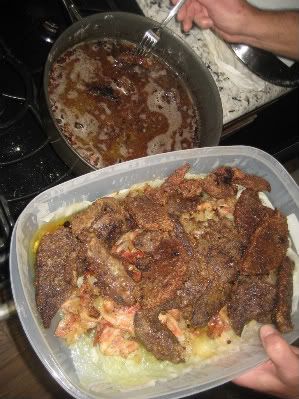 *in bacon grease
It was amazing. And an excellent meal for me on many levels, because a) I adore it, 2) it reminds me of Grandpa, and d) eating it makes me know for sure that I'm not a yuppie (yet).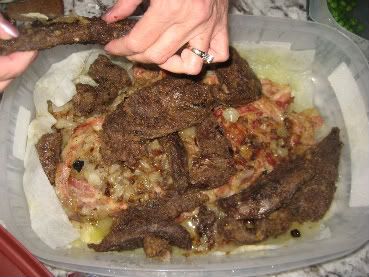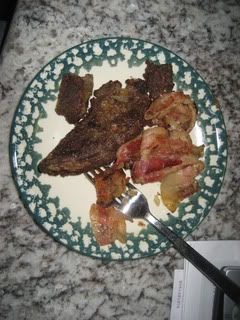 My dad says to note that this "big sucker" (the deer) was "shot by a woman."
After all this cheetohing and fried deer livering, I'm bound to return to New York at a healthy weight for my height and frame. Fuck that. Fortunately I found some of my mother's
medifast
from the 80's (best-case scenario, early 90's) in the attic, so I'll be doing that for the next two weeks. I want to look properly heroin chic when I ring in the new year.
Seriously, though, fried deer liver. You simply must try it.